Peonies-the most beautiful flowers in the world. Why as an Artist I am so obsessed with this flower!
Although it's just my opinion but I think peonies are the most beautiful and fragrant flower in the world. It is why as an artist that I am so captivated by everything about them and continue to paint them again and again.
These particular white peonies are my favourite because of their touches of dark pink throughout the white flower as well as it's oversized flower heads with hundreds of petals. It has a slightly larger flower head than some of the varieties I have grown and so the petals just flop in all directions creating a very challenging asymmetrical flower. As the sunlight filters through the petals and the petals cast shadows it's a very challenging flower to paint!
People often ask me why I have focused a body of work on white peonies and I can only say that I fell in love with them years ago when designing, planting and tending my own garden. I planted several varieties of Peonies in my garden and loved their hardiness as a perennial, their huge beautiful full flower heads and their wonderful intoxicating fragrance. When I found this particular white peony several years ago I was blown away with it's superior beauty to the ones that I had grown in the past. I photographed a lot of beautiful subjects and have thousands of pictures of flowers, landscapes, people and animals for painting reference. But the photos of these Peonies kept resurfacing in my mind.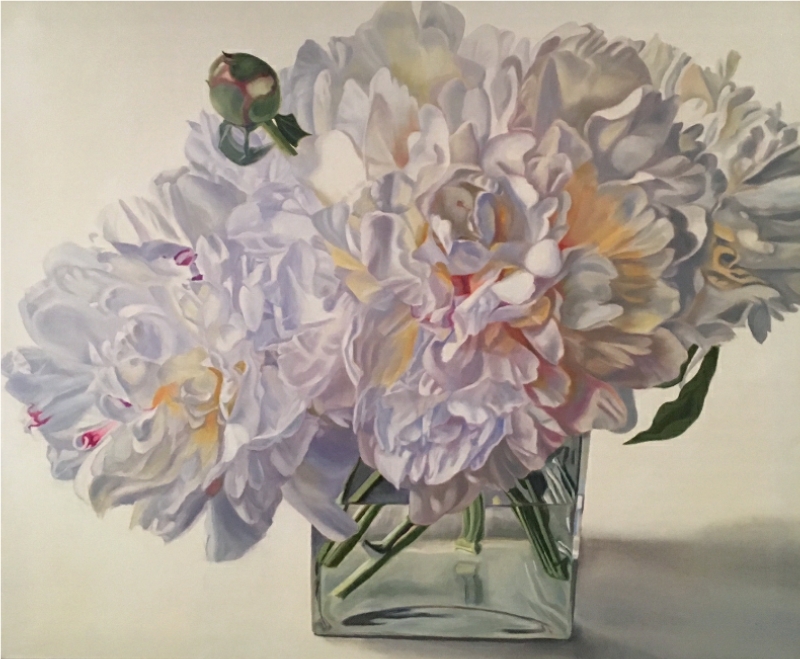 To me peonies are one of the most complex flowers to paint mostly because their petals flop in all directions intriguing me with their magical disarray. I love the haphazard way each petal falls creating a unique flow and direction establishing complex shapes and patterns in the painting.
From my years of gardening and having designed gardens for others, I have seen many beautiful flowers from annuals to perennials, flowering shrubs to flowering trees but peonies have always been my favourite. In Alberta Canada we have limited plant material that can grow, survive and come back year after year in our harsh weather so to me peonies are not only beautiful but are true survivors.
In late 2017 I had decided to apply for my Signature Status "AFCA" with the Federation of Canadian Artists and I was determined to find a subject matter that I was in love with but I would not get bored of painting in series. To apply for my AFCA I had to paint 10 paintings and I wanted to select something that was complex, unique and something that can showcase an artists painting skills, yet a subject matter that not alot of artists were painting.
In 2006 I quit painting for 8 years and at that time I was painting alot of florals and garden scenes but when I started painting again 8 years later I noticed that flowers were not as popular a subject matter. But because I am a gardener and flower lover I am always attracted to floral images and so I think selecting a floral subject matter to apply for my Signature Status "AFCA" was great timing as alot of artists were avoiding floral paintings.
I think it's important to paint what you know and paint what you love. Paint what you are passionate about!
About Artist Kimberley Cook AFCA CSPWC
Born and raised in Calgary, Alberta, Canada artist Kimberley Cook AFCA CSPWC worked as an Architectural draftsperson for 13 years and made the switch to fine arts in 1996. She considers herself a student of life, always learning, always evolving, always taking chances, her journey seen through the paintings she creates along the way.
If you are interested in purchasing a White Peony painting please check the website for which painting is available for sale or email