Add Spring Decorating Style to your Bedroom!
To bring life to your rooms add flowers and
live plants and more!
Spring is just around the corner and in January and
February I always feel this well of excitement about
things that grow, precious emerald buds emerging
from the earth, a green yard as opposed to a brown
one and of course flowers! I immediately want to
incorporate this feeling into my home. So why not
start with adding "spring style" into your bedroom.
BRING FRESH SPRING STYLE INTO THE BEDROOM:
In this article you will learn step by step how to
refresh and create a beautiful "spring style" in
any room. This blog will inspire you and you can
either make it a quick simple project by adding
a few plants and flowers or you can go into more
detail as described below.The main objective is
to have fun with it and to do it within your own
budget!
This blog on www.kimberleycook.com is reader
supported. If you buy through the links on my
site I earn an affiliate commission which
helps support my ability to continue to create
and paint oil paintings for a living. Thank
you for supporting me as an artist.
1. Start the "spring refresh" of your bedroom by
taking out all the decorative items that are easy
to move. Clearing the bedroom down to its simpler
elements helps to "cleanse the decorative palette"
and to see your space with fresh eyes. Take a few
pictures from different angles and use these to
help figure out what areas in your room to place
"spring decorative groupings".
2. Look for decorating ideas on Google or Pinterest
to come up with your "Spring Decor Style plan". For
those of you that can easily create a beautiful
space on your own have fun with this project! But for
those of you who have difficulty visualizing and
decorating, start by going on line and finding
pictures that inspire and delight you while focusing
on a spring style.
Look on google for pictures using the following
searches "pics of beautiful bedrooms with plants",
"pics of beautiful floral bedrooms" and "pics
of beautifully decorated shelves" for those who
have shelves in your bedroom.
To get ideas on how to decorate a long dresser,
shelves, a desk or night tables in your bedroom
google "pictures of beautifully decorated sofa
tables". Also google "pics of beautiful rooms
with Easter decorations" but don't get caught
up in cutesy Easter decor but
rather select classic beautiful things that
could be used all year around. What you are
looking for is a "spirit of spring"
incorporating plants, flowers and lovely
light and airy decorative items which I will
refer to as "spring decorative item groupings"
in this article.
If you love this bedding in picture above see:
The comforter:
https://www.potterybarn.ca/contrast-floral-stitch-quilt
The sheets:
https://www.potterybarn.ca/pb-classic-thread-count-organic-sheet-set?location=&quantity=1&attribute_2=White
The floral decorative pillow:
Eloise Embroidered Pillow Cover | Pottery Barn Canada
3. Decorating and bringing spring into your bedroom
is not just about adding floral bedding but about the
decor on your dresser, desk, night tables, shelving
and walls and how they all support the beauty and
cohesiveness of a spring styled room. It is about
how and where to incorporate interesting spring style
elements that work together as a whole. Flowers and
plants match any style of decor and when
included in decorative groupings they always
create a fresh soft and lovely look.
I am an artist who paints flowers and I love gardening
so bringing the outdoors into my home is always my
underlying motivation and goal. My unique way of
decorating and beautifying my home is to always include
live plants, flowers and branches in every room. To me
a room without plants, branches or flowers has a dead
feeling and feels lifeless to me.
4. While looking at pictures online notice
"decorative item groupings" on tables, night tables,
fireplaces, desk and dressers and notice how
many items are in these groupings. Pay attention
to the kinds of items in these groupings too, the
sizes of items, the varying heights and textures
being key. Use an odd number of items in a
decorative grouping 1,3 or 5 items and on large
surfaces up to 15 items can work well. The picture
above has 5 items and working beautifully together
and this spring decorative grouping would look
beautiful in any room, matching virtually any
style of room and coordinating with any colour
because they are white.
Simply adding a floral painting adds a lovely feeling
of spring to any room. For more information on this
30″ x 36″ painting titled "White Peonies VIII"
(available to print on canvas or paper)
5. In beautifully designed decor groupings also notice
that they always have an interesting variety of soft
and hard decor. What is soft or hard decor? In this
article when I refer to "soft decor" I am referring
to plants, fresh flowers, branches, pillows, throws,
linens and bedding, fabric, rugs, wicker and curtains.
When I refer to "hard decor" I am referring to hard
surfaces like items made of wood, metal, porcelain,
pottery and glass surfaces. A room full of hard
surfaces feels cold and clinical and that is why I
love plants and flowers especially when creating a
spring styled room. You may not know but soft
materials whether fabric or plants helps to absorb
sounds and can control and lessen noise in a room.
DECORATING TIP: While looking for spring style ideas
print out pictures that inspire you and make notes on
beautiful items. Carefully analyze what you think
makes these rooms "look like spring". Then you can
start to identify what you may already have on hand
and make a list of what items you might need.
6. White, ivory or light colour decor items
have a classic spring feel. Light blues, Robyn's egg
blue, pastel turquoise items are pretty too. Greens
are always pretty, pastel yellows, pinks, peach
decor/plants/flowers can look fresh and beautiful
and are on trend. This green pitcher in the picture above
is gorgeous with simple white, chartreuse and green
flowers and greens. What is has more spring style
than this?
Spring Style Suggestion: The picture above is a
beautiful neutral and fresh room. To style this
room with fresh spring style add a vase of
flowering or green branches (see below) or a
vase overflowing with fresh white flowers (see
above) on one or both night tables. A lovely
4 or 5′ tree behind the leather chair would also
look lovely or a large vase with 3-4′ tall green
or flowering branches would be so beautiful. If
you love this bedding see:
https://www.potterybarn.ca/cozy-patchwork-quilt-shams
For upholstered bed see: https://www.potterybarn.ca/big-sur-upholstered-bed
For night stands see: https://www.potterybarn.ca/braden-reclaimed-wood-nightstand-mp
and table lamps see: https://www.potterybarn.ca/faris-chalky-ceramic-table-lamp although I would like to see a
smaller diameter lamp that takes up less
space on the night table so more spring
decor items can fit.
7. While collecting decor items to create spring style
groupings and to save money buy used decorative
items online and at local garage sales.
Collect plants, branches and cuttings from friends
and raid a friends garden for fresh flowers and
branches. Also shop at second hand stores and don't
forget to rummage through your basement or attic or
"Shop your own home"! I first heard this on this
amazing video on Youtube on how to style/decorate
your night table
https://www.youtube.com/watch?v=QyiSK16qj78
Here is a great video on how to style a dresser
How-to Series – Styling a Bedroom Dresser. – YouTube
Here is a video that shows beautiful inspiring
bedrooms ideas
37 LUXURY PINTEREST MASTER BEDROOM IDEAS ( MODERN HOME ) – YouTube
Use your imagination and remember you don't have
to go into debt to create spring style in your room.
Keeping it simple: if you are a very busy person
simply add a vase of fresh flowers, flowering
branches and an airy plant to your bedroom and
leave it at that or incorporate a floral
painting over your bed or dresser and a vase
of branches is also another quick spring
design solution.
See this beautiful decor company called ABC
Carpet & Home for the most beautiful home
decor including furniture, rugs, dishes and
so much more! If you sign up for their
newsletter you can receive 20% off product
https://www.abchome.com/?ranMID=45234&ranEAID=2454844&ranSiteID=je6NUbpObpQ-ijuuCjUBasSrHoLn9fMCIw&siteID=je6NUbpObpQ-ijuuCjUBasSrHoLn9fMCIw&utm_source=VigLink&utm_content=847332&utm_campaign=acquisition&utm_medium=affiliates
8. There are amazing DIY projects online on how to
refurbish and refresh anything! Whether it's
distressing, crackling or painting a piece of
furniture or decorative item like a tray or pot or
even repainting wood candle sticks try at least
one project just for the fun of it.
9. SUPPORT YOUR LOCAL ARTISTS: If you want to keep
it simple and you have a larger budget then
instead of buying decorative items from a big box
stores where nothing is original or handcrafted,
please think about supporting your amazing local
artisans. Look at different types of art like
pottery, paintings, decor, signs, wood working
and glass, grab a friend and make a day of it.
Handcrafted items are heirlooms to pass onto
your children or grandchildren and remember
these original items could be worth money
someday!
Spring Style Suggestion: This picture above is the
beautiful pottery of artist Laurie-Dan Steinbach of
Alberta Canada. These plates could be hung on a wall
in a grouping or used as a platter for jewelry or
hors d'oeuvres in the kitchen. Her beautiful platters
and plates are a gorgeous tribute to spring and notice
real flowers are pressed into the pottery to create a
3 dimensional effect. For more information contact
Laurie: She also has
adorable animal characters sculptured from
clay and I particularly love her bunnies!
10. Imagine "where" you would like to see a spring
display in your spring styled bedroom. I like to
include between 1-3 different "spring decorated
areas" within each room but one will work. Also
think of where you will most appreciate seeing a
touch of spring. In the picture above notice the
distressed white chair used as a night table with
a pretty clock and small airy plant which is so
simple and is pretty. Notice this bedroom feels
like spring because of the solid green and the
floral bedding and the fresh white walls and
sheets and notice every counts!
11. Although visually beautiful decor items are key
to a beautiful bedroom, "fragrance" is important too.
To create a spring style that you can immerse
yourself into with all of your senses think about
the smell of things. A room should first of all smell
clean, clean your room thoroughly and
then think about adding beautiful smells! Place
fragrant flowers close to your bed and candles.
Aromatherapy is fantastic and powerful using
essential oils which powerfully affect and can
change mood. These essential oils can calms,
energize and relax but be sure to purchase pure
essential oils as opposed to fabricated smells.
This is an amazing website with everything
you could possibly want to know about essential
oils and you will be amazed, here is one of
their articles
https://essentialoilexperts.com/essential-oils-for-anxiety/
Diffusers are used to disperse essential oils and
can come in all shapes and sizes. I prefer a diffuser
that is not obvious and tends to disappear in a
decorative grouping. (some essential oils are poisonous
to pets so do your research). Here is a lovely plug
in white diffuser with a wood base see
https://www.thebay.com/product/earth-luxe-glass-ultrasonic-diffuser-0600091743145.html.
For a simpler white ceramic diffuser try
https://www.potterybarn.ca/mason-ceramic-scent-collection-mystic-fog
and
https://www.potterybarn.ca/apothecary-scent-collection-linen-cashmere
12. Keep in mind what will compliment your bedrooms
style and work within it. Although you can combine
different decorating styles together pay attention
to your rooms style when selecting new decorative
items. That is also why selecting classic items
in neutral colours like white/cream works great
because they match and coordinate well with all
styles of rooms and they can be mixed and
matched anywhere throughout your home.
13. If you want to create a light airy spring style in
your room remove dark decorative accessories and
replace with light, white or cream decorative items.
But if dark accessories are an important part of your
decor just soften these areas with fresh plants or
flowers and use white/ivory pots or baskets which
coordinate nicely with them.
Look at this spring fresh bedroom and notice the small
tree in behind the bed that adds a touch of spring.
If you like this cream quilted bedding see
https://www.potterybarn.ca/pick-stitch-quilt-sham
but I cannot see the blue and cream comforter from
Pottery Barn so here are two duvets I suggest that
are similar:
https://www.potterybarn.ca/ana-medallion-duvet-sham-blue
or this pretty blue and white floral
https://www.potterybarn.ca/kinsley-duvet-cover-shams.
The bed:
https://www.potterybarn.ca/stratton-bed-with-drawers.
Wall mounted light sconces:
https://www.potterybarn.ca/pb-classic-articulating-sconce-bell-hood-linen-shade
14. "Shop your own home" which is a genius term
for looking in your own home for decorative items.
If you have a pretty fern tucked away in a different
room you don't spend a lot of time in grab it for
your bedroom! If you have a lovely white vase
in the family room grab it and make your
bedroom's spring style a priority!
15. Check out your local garden centers for their
beautiful offerings! I love a trip to a garden
center even and especially in the middle of winter
to get excited about spring. Keep in mind your
nearest box store will not have the beautiful and
wide selection of house plants of a garden center
so try there first and support your
local green houses.
Why buy live plants you ask? Because they make
oxygen and they are beautiful! I love buying
different kinds of ferns in small 4″ pots and
then 1 or 2 medium size plants in 10 – 12″ pots.
Buy a variety and even if they all don't fit
into your spring styled bedroom place them in
your kitchen and living room because you can
never have too many plants and plant make oxygen!!
Ferns – there are so many pretty ferns, select any of
these in small, medium and large sizes: Boston
(see below), Fern Leaf, Button, Maiden Hair
(see above) and Asparagus (2nd pic above). Getting
a lovely variety is key. Ferns can also handle lower
light locations and do not like direct sun.
English Ivy is a gorgeous trailing plant and is very
easy to grow. They can also handle lower light
locations and do not like direct sun.
Spring bulbs like daffodils, tulips, narcissus, hyacinths
and more are beautiful and fragrant and add such a
gorgeous spring feeling and incredible fragrance to
any room. Potted bulbs make a beautiful spring
statement. Bulbs have a burst of flowers and then the
flowers die but don't throw them away! Keep them in a
pot until spring and plants the bulbs or give them
away to someone with a garden. Remember that if you
plant the bulbs in the garden they will not flower
again this year but will flower the next year and
continue year after year.
Flowering indoor plants are fantastic and some
of them blossom continuously if they are cared
for properly. Talk to your garden store about
what plants flower the most and what conditions
they need to continue to flower and ask how
easy they are to take care of. Elegant orchids
add a beautiful air to any room and what could
be more beautiful!
African violets, Geraniums and many more flowering
plants are gorgeous. Although you never see
Geraniums as indoor plants di you know they are
excellent house plants and continue to flower.
I have seen them grow up to 4′ tall in the house
with the right conditions and they are hardy
tough plants too. For success with any flowering
plants research the plants needs to ensure they
continue to grow and blossom.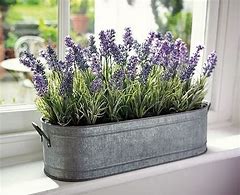 Herbs are beautiful and fragrant and they can be
eaten or made into teas. Thyme is gorgeous with
their tiny delicate leaves. There are different
varieties of Thyme like Lemon Thyme which
smells and tastes amazing. The picture above
shows Lavender which needs heat and sun and is
a fragrant, tasty herb fresh or dried and can
even be sprinkled in the bath. Their flowers
can be dried and used for adding fragrance in
your room as well.
Succulents are unique plants and show
beautifully in a pretty bowl, platter
or container. Sedums, hens and chicks,
and Jade plants (although not a succulent
but has the fleshy look of a succulent)
have an exotic look and add that needed
fresh green colour for spring style.
Grow a flat of seeds in a pretty tray, rectangular flat
vessel, basket or a pretty white flan pan. Wheat grass,
cat grass or sprouts looks fresh and elegant on a
dresser and a beautiful centerpiece for a table. If
you can't grow things try these faux 10″ x 10″ boxwood
in a flat format which can be placed in a 10×10″ or
20×10″ or 20×20″ basket or shallow square or
rectangular pan:
See https://www.thebay.com/product/le-present-artificial-boxwood-tile-0600090936201.html?dwvar_0600090936201_color=GREEN
or a larger size 20″ x 20″ Le Present Artificial Boxwood Tile | TheBay
A tree in a large pot in the corner of your bedroom
is a fabulous way to add a touch of spring. Make
sure the pot is beautiful and big enough for the
scale and height of the tree! If you prefer a faux tree
try this lovely faux tree
http://Nearly Natural 7.5-Foot Super Deluxe Artificial Ficus Tree | Bed Bath and Beyond Canada
or http://Nearly Natural 4-Foot English Ivy Spiral Topiary Tree in Wood Bucket | Bed Bath and Beyond Canada
16. Flowering branches add a spring look to any
room. They provide a striking and surprisingly
fresh look to a room whether they are just leaves
or floral branches. Look at the beautiful pictures
below of different branches and remember you could
use fresh or faux branches to get this look.
The bedroom in the picture below looks fresh
and romantic with branches on one of the night
tables. These branches look about 3′ tall.
Branches create drama in this room and with
the all the pillows you wouldn't be able to see
the branches if they were less then 2-3′ tall.
Try long branches and see the drama they create!
Look at the fresh bedroom below and see the branches
on the night table beside the bed! If you like
the bedding in the picture below:
The comforter:
https://www.potterybarn.ca/clayton-striped-duvet-shams,
The quilt:
https://www.potterybarn.ca/melange-quilt-shams-eucalytpus?location=&quantity=1&attribute_3=Eucalytpus
The white sheets:
https://www.potterybarn.ca/pb-classic-thread-count-organic-sheet-set?location=&quantity=1&attribute_2=White
The night table:
https://www.potterybarn.ca/cayman-mini-nightstand
I love these lovely fresh white alabaster lamps which are slim
so you have more room for flowers, branches or a plant
and a few decorative items
https://www.potterybarn.ca/zoe-alabaster-table-lamp
Branches with just foliage look beautiful in a
masculine or feminine styled bedroom while
adding height, airiness and drama to a room.
Here is a lovely example of some live flowering
and just foliage branches below.
If you want faux foliage branches because you cannot
source any fresh branches check out Michaels or these
green foliage branches
https://www.potterybarn.ca/green-petal-leaf-branch
If you like the lantern above check out 4 different
sizes https://www.potterybarn.ca/malta-lantern-collection-bronze-polished-nickel?location=&quantity=1&attribute_2=Large
I love flowering branches see picture above with their
lovely white blossoms. They adds such beautiful spring
style to this bedroom. If you cannot find fresh flowering
branches try faux flowering branches like these 6
beautiful white flowering branches 38″ long
https://www.bedbathandbeyond.ca/store/product/nearly-natural-38-inch-cherry-blossom-flowers-set-of-6/5204406?keyword=faux-branches or try Michaels.
If you live in a temperate area that is green most of
the year just cut 3′ tall branches (at least 6-12 stems
depending on bushiness of branches). If 3 feet are
too tall for your bedroom you can cut them down
when you get home. If it is early spring and the
branches haven't leafed out or flowered you can
still cut them and place them in warm water in
the house and within a few days they will leaf
out or flower. When cutting outdoors be prepared
with sharp secateurs that can cut through branches
easily and a bucket with several inches of water so
that as soon as you cut a branch you can submerge
them in water. Cut the branches on a slant so that
there is more surface area on the branch to absorb
water. Once you get home find a tall enough vase and
cut them down to size that works best. To keep the
branches alive and fresh change the water every
few days as the water gets moldy and stinky and
be sure to cut the branches again on a slant.
You can call your local florist for flowering branches
like Forsythia, Apple, Cherry, Magnolia or even Pussy
Willows. What could epitomize spring more than Pussy
Willows! If you cannot locate any branches go to
your local Michaels store or try these set of
6 white faux flowering cherry branches 38″ long
https://www.bedbathandbeyond.ca/store/product/nearly-natural-38-inch-cherry-blossom-flowers-set-of-6/5204406?keyword=faux-branches
For those of you who love bright yellow flowering
branches like the Forsythia branches below
call your local florist, or see if a friend has
a shrub in their back yard for you to cut. They
can be cut before they leaf out and once they are
placed in water they will blossom.
If you cannot source live Forsythia branches
check out these faux set of 3 branches 50″ tall
https://www.bedbathandbeyond.ca/store/product/nearly-natural-50-inch-forsythia-flowers-set-of-3/5203678?keyword=forsythia-branches
Wouldn't these yellow Forsythia branches above
look fabulous with this pretty yellow toile fabric
in the picture below of this lovely yellow room
below and notice the decorative items on the night
table too.
If you would like an entire faux branch bouquet in a
vase check out these:

Here is a beautiful faux branch bouquet including
a vase with white lilacs
https://www.bedbathandbeyond.ca/store/product/nearly-natural-15-inch-artificial-lilac-flower-arrangement-with-vase/5202806?keyword=nearly-natural-15-inch-artificial-lilac-flower-arrangement-with-vase&color=MULTI&skuId=65480700
This faux branch bouquet is larger in height with
pink blossoms
https://www.bedbathandbeyond.ca/store/product/nearly-natural-23-inch-hydrangea-and-cherry-blossom-arrangement/5411683?keyword=nearly-natural-38-inch-cherry-blossom-arrangement-in-vase&color=MULTI&skuId=69021190
as I do like taller arrangements in a bedroom
so you can see the arrangement over top of the
pillows on the bed.
DECORATORS TIP: For 2-3′ tall branches you will need
a vase large enough to hold them so get a vase
over 12″ tall.
Check out these:
17. Pots and vessels for plants and flowering plants
can make a beautiful statement so look for pretty
vessels and pots in metal, clay, glass and wood.
There are also beautiful wall mounted plant pots/pot
holders. See the amazing plant pots and holders
below or use your imagination:
Plants look amazing in lanterns so create a spring
decorative grouping with the lantern as the star of
the display. If you love lanterns check out these
that come in 4 sizes
https://www.potterybarn.ca/malta-lantern-collection-bronze-polished-nickel?location=&quantity=1&attribute_2=Large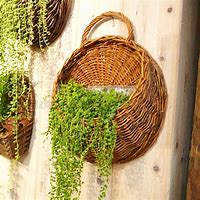 Look at this lovely basket with a delicate hanging
plant. Wouldn't these look fabulous over
a night table on each side of the bed!
These simple yet lovely pots have an earthy look and
come in 2 different sizes 12.5″ tall and 14.5″ tall from
https://www.potterybarn.ca/maya-terra-cotta-cachepot.
These are big pots for small trees and large ferns.
DECORATORS TIP: For large plants and trees
like a palm, ficus or a large fern this 16"W x 16"D x 15"H
"smart pot" looks like wicker and is a medium self
watering pot and tells you when you need to water
https://www.bedbathandbeyond.ca/store/product/vifah-oval-medium-self-watering-wicker-planter-in-sandy-brown/5378779?keyword=vifah-oval-medium-self-watering-wicker-planter
or large size
https://www.bedbathandbeyond.ca/store/product/vifah-oval-large-self-watering-wicker-planter-in-sandy-brown/5378780?keyword=vifah-oval-medium-self-watering-wicker-planter
Why not a 2 planter boxes one above the other
(see above). For a more spring style paint the
boxes in white or ivory.
These are very cool pots that look like bark or cork.
This beautiful long basket looks amazing with
3 or 4 of the same plants in it.
Love these white distressed pots as shown above.
This is a beautiful scrolled wall mounted plant
holder below
The 3 metal wall mounted plant holders are unique
and very cool.
Love these modern floor mounted pots too.
I love these miniature topiaries in small clay pots
above how elegant!
Cloches are beautiful over any plants
DECORATORS TIP: Pots for plants look great in a
pretty basket, natural colour or classic white
pot. Don't buy brightly coloured pots although
I do love classic blue and white pots and
pastel coloured pots. Brightly coloured pots
can be a distraction in a room unless the room
is a mixture of bright colours and patterns
and I like the plants to be the important
elements of a spring décor grouping. Check
out your second hand stores and local stores
for beautiful and unique pots. These are
unique pots for a fern
Maya Terra Cotta Planter | Pottery Barn Canada.
I also love baskets for a pot because they
look so natural and pretty but depending on
the pot you may need a plastic plant liner
to stop water from getting on your furniture.
DECORATORS TIP: To prevent killing your plants did
you know you can buy "smart pots" that tell you
when they are dry! They have a converse osmotic
mechanism that keeps plants nourished and has a
built in reservoir so plants stay hydrated and
importantly don't leak water on your furniture
or wood floor.
https://www.bedbathandbeyond.ca/store/product/vifah-oval-medium-self-watering-wicker-planter-in-sandy-brown/5378779?keyword=vifah-oval-medium-self-watering-wicker-planter
or large size
https://www.bedbathandbeyond.ca/store/product/vifah-oval-large-self-watering-wicker-planter-in-sandy-brown/5378780?keyword=vifah-oval-medium-self-watering-wicker-planter
18. Fresh cut flowers are always beautiful they add
colour and fragrance and add happiness and elegance
to any room. Roses, daffodils, tulips, hydrangea,
carnations, roses, snap dragons or any favourite
flower bring the garden in creating live spring style.
DECORATING TIP – fresh flowers add elegance to any
room. Change the water every few days before the
water and stems starts to mold. Recut stems on a
slant and your flowers will last a week or longer.
Some flowers require simple things to add to the
water for a longer life like fertilizer packs,
1 teaspoon of sugar, aspirin but research which
flowers need what.
I love the decorative grouping on this night table:
fresh white flowers in a white pitcher, books, lamp
and I especially love the mirror behind it.
18. Fresh cut flowers and vases Fresh cut flowers
quickly add spring style to any room. To keep flowers
alive for as long as possible change the water every
few days and recut on a slant. Some flowers do well
with a little sugar added to the water, a penny,
an aspirin and/or fertilizer so do research on
what will keep your particular flowers alive longer.
Cut fresh flowers weekly, raid your friends garden,
support your local florist or why not think about
having fresh flowers delivered once a week.
Vases filled with greens, white flowering branches,
white flowers and green flowers is a
beautiful spring decorative grouping
This is a lovely display of Narcissus's in clear vases.
Isn't this lovely white flowers and green
foliage in a blue and white pot!
Here is a lovely rectangular blue and white vase
especially made for flower arrangements
https://www.monticelloshop.org/long-life-porcelain-flower-arranger-vase/
Look at these 2 beautiful and unique vases above
from Alchemy! They come in a set of 2 vases in
different sizes and they kind of look like
lanterns but are vases and waterproof see
https://alchemyfinehome.com/products/tozai-home-windows-set-of-2-square-vases-w-gold-metal-trim-in-2-sizes
Try a lovely glass cloche over any small plant see
these 2 different size cloches from The Bay
https://www.thebay.com/product/yummi-large-clear-gem-cloche-0600090563584.html?dwvar_0600090563584_color=CLEAR
or a smaller one Yummi Small Clear Gem Cloche | TheBay
Cloches are beautiful over a vase of flowers or any
small plant or a grouping of small items. Remember
when putting a cloche over a plant don't do it on
your fancy wood furniture as the wood exposed to
the moisture in the cloche could damage the
furniture piece so place the cloche on a
waterproof type surface. So for example put the
cloche on a plate, platter or a base of some
kind that you are not worried about getting
moisture on. Also keep in mind that if the
cloche is in direct sunlight it will fog up
so place a cloche where there is not direct
sunlight because the heat will become intense
inside as well and possibly wilt or kill the
plant or flowers.
19. A spring wreath can also add a touch of spring.
You could make your own wreath from fresh or faux
flowers. Wreaths come in round and square shapes
and I love both floral wreaths but also just
green wreaths. The above wreath is gorgeous
with the large spray of flowers and the nest
with eggs in it is adorable.
Here are some nice faux spring style wreaths
and keep in mind the size of wreath you
are looking for:
19. If you kill all plants there is hope or if you can
only handle a few plants try a few faux plants like:
• This a pretty faux fern try
https://www.bedbathandbeyond.ca/store/product/elements-14-inch-artificial-air-fern-plant-in-ceramic-pot/5535373?keyword=elements-14-inch-artificial-air-fern-plant-in-ceramic-pot&color=MULTI&skuId=69620341
• Here is a pretty faux boston fern in blue and
white pot:
https://www.bedbathandbeyond.ca/store/product/nearly-natural-17-inch-artificial-fern-in-floral-planter/5503223?keyword=faux-ferns.
. This pretty faux maiden hair fern creates a
delicate spring feeling:
https://www.bedbathandbeyond.ca/store/product/nearly-natural-13-inch-maidenhair-fern-in-mossed-grey-pot/5064465?keyword=nearly-natural-13-inch-maidenhair-fern-in-mossed-grey-pot&color=MULTI&skuId=64566221
• I love this French country style faux boxwood plant
in a unique white pot:
https://www.bedbathandbeyond.ca/store/product/nearly-natural-28-inch-boxwood-bush-in-white-metal-planter/5064885?keyword=nearly-natural-28-inch-boxwood-bush-in-white-metal-planter&color=MULTI&skuId=64561172
20. Hanging plant pots are back in! The 70's are back
in Boho style! Crocheted plant hangers, soft foot
stools called poufs:
see https://www.thebay.com/product/distinctly-home-marketplace-natural-jute-pouf-0600091609736.html?dwvar_0600091609736_color=NATURAL
or https://www.thebay.com/product/distinctly-home-new-traditional-finley-pouf-floor-cushion-0600090136086.html?dwvar_0600090136086_color=WHITE
and a crocheted throw over an arm chair will create
a Boho spring style bedroom
see https://www.potterybarn.ca/edilon-bobble-knit-throw
This is a lovely boho style room above and
to get this look you could buy sheer drapery
panels in as large a width possible and suspend
hanging rods from the ceiling. Or you could just
buy alot of sheer fabric and drape over hanging rods
from ceiling. Although this looks like a sheer tent
one could use premade sheer curtains to get the
same look. Here are some pretty premade
curtains edges with tiny pom poms which is
very boho style. They come in different lengths
remember you want them long to drape on floor
see
https://www.thebay.com/product/home-outfitters-tassels-rod-pocket-window-curtain-panel-0600090679955.html?dwvar_0600090679955_color=PINK
or more simple white sheers
https://www.thebay.com/product/commonwealth-home-fashions-san-marino-sheer-panel-0600088137656.html?dwvar_0600088137656_color=WHITE
For unique hanging planters check out the follow:
16. Clean your room thoroughly. Nothing makes a
space prettier than when it is smells and looks
clean and now that all the decorative items are
removed it is easier to wet wipe/dust all the
furniture.
• Clean inside and outside (if you can) of your
bedroom window and you will be so surprized
how it helps make
a room look cleaner, brighter and fresher.
• Damp wipe the tops and sides of all furniture
(rinse your clothe often).
• Wash trim and baseboards if dirty. I often
notice dirt on white baseboards, white
baseboards with black lines of dirt on
the edges look dirty and if permanently
dirty touch up with white paint or
repaint baseboards.
• Spot wash walls if dirty and if scuffed
touch up with paint.
• Throw your curtains in dryer with dryer sheet to
remove dust and freshen up.
• Vacuum including using your edge tool to do
edges of carpets.
• Launder all bedding, sheets weekly.
I like to bleach sheets/bedding to ensure all bacteria
and viruses as well as to remove any smells
but now I have a washer that sanitizes and disinfects
by steaming the load to 171 degrees Fahrenheit
a temperature needed to kill viruses, bacteria,
dust mites, pollen cat and dog allergens and just
so you know most conventional washing
machines just do not reach that temperature.
If you are interested in this amazing LG washer: https://www.homedepot.com/p/LG-Electronics-5-5-cu-ft-HE-Mega-Capacity-Smart-Top-Load-Washer-with-TurboWash3D-Wi-Fi-Enabled-in-Graphite-Steel-ENERGY-STAR-WT7800CV/309343841#product-overview
LG dryer: https://www.homedepot.com/p/LG-Electronics-7-3-cu-ft-Ultra-Large-Smart-Front-Load-Electric-Dryer-w-EasyLoad-Door-TurboSteam-Wi-Fi-Enabled-in-Graphite-Steel-DLEX7800VE/309364194?
17. Bring in the light – Open up all your blinds. I am
always surprised to find that people live in dark gloomy
spaces. And if you are adding live plants into your
home you will need light. However even if you have all
the blinds open and your home is still dark, there are
many varieties of plants that can survive with low
lighting. It is proven that sunshine and bright
spaces make us and the plants feel happier too!
18. Start creating spring groupings but remember
only in odd numbers. Start with 3 items and see
how it fit in the space and add more as needed.
Lovely spring bulbs, flowering plants and unique
house plants work beautifully in a spring style
grouping so select one plant and decorative
items in different sizes, heights and textures.
On a small night table you may have very little
room so just add one small plant in a pretty
container or a vase of branches to use the
vertical space you have.
On large surfaces 5-13 decorative items including add
plants/flowers. Adorn your shelves with lovely spring
items and even place a tree in a pretty basket in a
blank corner on the floor. Throw in at least one fern
as they create a lovely softness and a feeling of spring
in a room. You don't have to use all of the decorative
items you have compiled but having a good selection of
items to choose from makes it easier to create beautiful
spring décor groupings. When you are done just put the
unused decor items away or start creating spring style
in another room!
Decorating Suggestion: Don't feel you have to
accomplish this project all in one day. It may
take a few days to a few weeks depending
on what you have in mind to bring
spring style into your bedroom.
I am an advocate for neutral light colours but if you
want brighter colour I suggest selecting a lighter
version of the colour you think you may want.
Painting is also one of the cheaper ways to really
freshen up a room and create spring style. To look
at different styled rooms with different colours
check out this wonderful website which features
an incredible amount of pictures of beautiful
rooms and spaces Houzz – Home Design,
Decorating and Remodeling Ideas and
Inspiration, Kitchen and Bathroom Design
19. A great way to freshen a room is to
paint. There are beautiful fresh neutrals
and lovely colours at the paint stores.
Look at the beautiful green in this
bedroom. See this article for the new
colours for 2021:
https://www.benjaminmoore.com/en-ca/colour-overview/colour-palettes/colour-of-the-year-2021.
Also here is another great article for how to select
paint colours:
https://www.benjaminmoore.com/en-ca/colour-overview/find-your-colour
and here are some pics of rooms with
beautiful colours:
https://www.benjaminmoore.com/en-ca/project-ideas-inspiration.
21. Fresh Bedding
What could create a fresh spring look more than
crisp white or floral bedding. If you need new
bedding and can't afford several sets of sheets
I suggest always having classic white sheets.
A white duvet/comforter would also be a good choice
because white goes with everything and you could
change the entire feeling and colour of a bedroom
with just a few different pillows and throws.
If you like the this bedding below see The Bay
https://www.thebay.com/product/distinctly-home-romantique-duvet-cover-0600085300276.html?dwvar_0600085300276_color=WHITE
To create a more layered and sophisticated spring
style you can add floral pillows of different
shapes and sizes with coordinating stripes,
checks, lovely patterns as well as solid
colours. Also consider adding additional colour
and texture with coordinating throws
and quilts at the end of the bed. Learn how
to style a bed with layers with this great video:
How to Layer a Cozy Bed with Monique Lhuillier – Bing video
Here is a great video with some decorating tips for making
a fresh lovely bed, and lots of amazing decorator hacks
Bemyguestwithdenise Denise Cooper – YouTube
To keep your costs down and if you have neutral
white bedding you could simply buy 2 large euro
pillow inserts and floral euro pillow covers and
that would immediately would add instant spring
style to your room.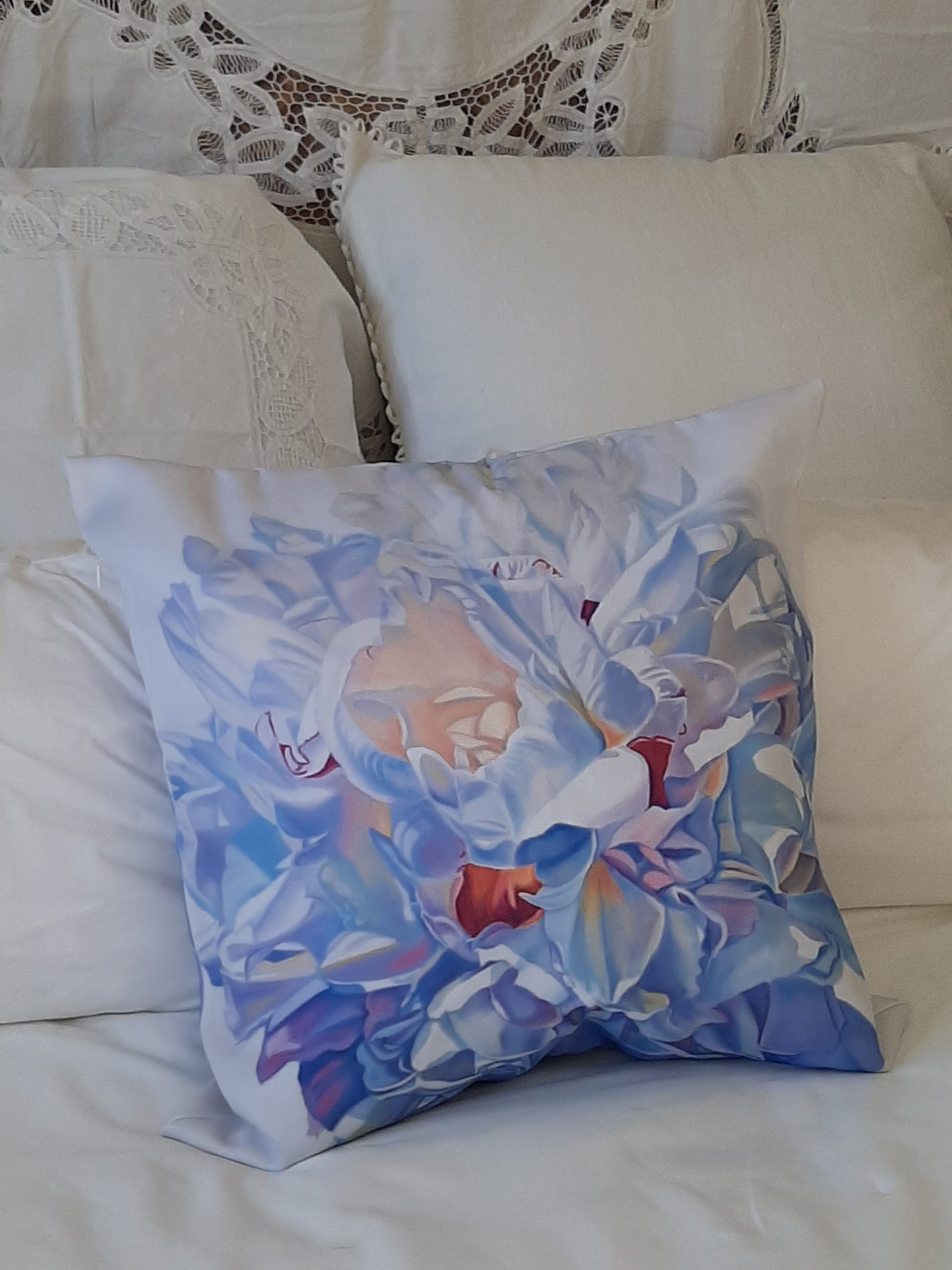 This floral pillow below is from my Peony
Series paintings titled "Goddess Pillow"
see 20″ x 20″ floral Pillow Covers
Pillow Covers (kimberleycook.com)
would look lovely on white bedding to
add a touch of spring
Check out this romantic bed in neutral colours and
you can add a few floral pillows for a touch of spring.
Check out http://Distinctly Home Romantique Cotton Duvet Cover | TheBay
DECORATORS TIP:I have a secret…if you live in Calgary,
Alberta The Bay department store downtown and it is a
6 storey building full of amazing high quality
products for the home as well as fashion. I love
to support Canadian businesses and I recommend
spending the day there!
22. Floral Art is a great way to add a touch of
spring. A floral art piece on the wall over your
bed or dresser adds a feeling of spring to a
bedroom. I suggest if you have floral bedding
it may be too much to add a floral painting
too unless the floral pattern on the bedding
is neutral in colour like creams and whites
or the artwork is neutral at colour. Because
I am a floral artist I am partial to floral
artwork. Please see my website with "pictures
of my floral art" in various rooms to help
viewers visualize my art over their furniturehttps://www.kimberleycook.com/my-art-on-your-wall/.
See the examples below.
This painting above is my 4′ x 4′ LE canvas
print titled "Enchanting". Also available on
watercolour paper. Both canvas and paper LE
prints are available in small, medium and large
sizes for more information email
This painting above is my 30″ x 60″ LE
canvas print titled "A Dream Come True".
Also available on watercolour paper.
Both canvas and paper LE prints are available
in small, medium and large sizes.
For more information email
and see
Canvas Print – Title "A Dream Come True" | (kimberleycook.com)
This painting above is my 40″ x 48″ LE canvas
print titled "Freshly Picked". Also available
on watercolour paper. Both canvas and paper
LE prints are available in small, medium and
large sizes for more information email
and see
Canvas Print – Title "Freshly Picked" | (kimberleycook.com)
This floral painting above is my 3′ x 3′ LE
canvas print titled "Goddess". Also available
on watercolour paper. Both canvas and paper
LE prints are available in small, medium and
large sizes for more information email
and see
Canvas Print – Title "Goddess" | (kimberleycook.com)
23. Wallpaper -Wall Paper can add instant spring style to a room.
Look at these amazing and dramatic rooms with floral wall paper. Purple & Pink Dark Floral Wallpaper Mural | Murals Wallpaper CA
Also see wall decals with flowers Urban Walls Blushing Peonies Wall Decal & Reviews | Wayfair.ca and Isabelle & Max™ Vintage Bouquet Peony Flowers Wall Decal & Reviews | Wayfair.ca
also https://www.wayfair.ca/decor-pillows/pdp/simple-shapes-peony-flowers-wall-decal-ssha1171.html
The amazing thing is that with the flower decals
could be placed on what ever wall colour you like.
So these would look amazing on white or black walls.
23. A new headboard or bed is a beautiful way to
make a fresh spring statement in a room. See this
lovely 4 poster bed above from Pottery Barn
which is a classic style and comes in several
stain colours
Farmhouse Canopy Bed | Pottery Barn Canada
Be creative and use "unique items" to create
a headboard – instead of buying a new bed or
headboard you can look for something unique.
Big box stores often have headboards but
unconventional items as a headboard like
antique double doors or a section of an
antique wrought iron fence search on google
"unconventional headboard pics" for tons of
ideas. Look at this picture above of
beautiful distressed wood panel that looks
so beautiful as a head board! A new headboard
is not necessary to make a spring style
statement however. If you are thinking of
buying a new bed try a four poster bed as
they have a romantic feel and create a
coziness that no other bed can provide.
Avoid trendy unusual or over the top styles
that will make your bedroom look out of
style in 5 years. If you have an 8′ high
ceiling or lower it can look over crowded or
may not even fit so be sure to measure heights.
The headboard in the picture above could
be made easily for cheap with wood and
distressed or crackled to look old
How To Make New Wood Look Old & Weathered – YouTube how to get the above look use a stain in a gold tone.
Check out this beautiful 4 poster beds from GlucksteinHome Rosedale Upholstered Bed | TheBay . At The Bay I particularly love
the "Gluckstein Home beds" because they are
beautifully designed in modern and traditional styles
so check out gluckstein home beds | TheBay or
Distinctly Home Rosette Square 3-Piece Duvet Cover Set | TheBay.
My favourite style of bedroom is a French country style
see picture above because it has a European flavour and
romantic feel. Check out this wonderful article on how
to create a French country style bedrooms
12 Essential Elements of a French Country Bedroom | Sense & Serendipity (senseandserendipityblog.com).
Here is a bed that looks relatively French country Beau Bed | Beds | Ethan Allen
DECORATORS TIP: Add two euro pillows in a
floral pattern on a white bedding for a
simple spring look! Euro pillows are those
large square 26" x 26" pillows that sit
behind the smaller pillows on a bed. They
are there to add style and height to your
bedding. Euro pillows can be covered with
premade euro pillow cases or you could make
a spring style cover for them. I don't see
a lot of beautiful florals euro pillow
cases/covers so why not grab a few yards of
a pretty floral "large scale" floral fabric
and make them yourself. I do not like small
pattern florals for a Euro pillow but look
at your local fabric stores for large scale
fresh floral pattern for your euro pillows.
Here is the actual 26" x 26"
(up to 28″ x 28″) pillow it for sale
http://Euro Pillow | Bed Bath and Beyond Canada.
To get a spring fresh look you don't necessarily
have to have a floral pattern, see the lovely
paisley pattern above. Depending on the size
of your bed lots of pillows of different
patterns, sizes and shapes creates a
beautifully designed bedding and you will need
more pillows for a king size bed as opposed to
a queen size bed. See this lovely arrangement
of pillows above and just look at the fresh
spring feeling it gives. See this lovely
bedding in a paisley pattern from the Bay
Harbor House Chelsea 3-Piece Paisley Duvet Cover Set | TheBay .
I have a lot of pillows on my bed because
with a King size bed it has so much room and
you need more decorative pillows to make it
look cozy so I have 2 euro pillows, 2 king size
pillows, 6 queen size pillow in white pillow
cases and 4 – 20″ x 20″ decorative pillows in
coordinating fabrics. To learn more about
styling your bed see
https://www.bing.com/videos/search?q=you+tube+video+on+how+to+layer+bedding+and+piloows&docid=608038125731448132&mid=09AC76E8B3D88A01A9BA09AC76E8B3D88A01A9BA&view=detail&FORM=VIRE
24. A pair of beautiful lamps make a lovely
statement in a bedroom. Lamps add warmth and
balance in a bedroom and clear glass lamps
tends to make them appear less obtrusive and
allows light through them check out this lamp
https://www.thebay.com/product/dainolite-crystal-one-light-column-table-lamp-0600090649241.html?dwvar_0600090649241_color=CHROME or
https://www.potterybarn.ca/aria-table-lamp
25. Ground your space with a cozy rug –
there is nothing more cushy on your toes
than a shag carpet –
https://www.potterybarn.ca/easy-care-solid-shag-rug-ivory-multi
or ground your room with a fresh neutralized blue rug for a
fresh touch of colour in a neutral cream or white space try this
rug http://Jema Handwoven Printed Wool Rug | Pottery Barn Canada
26.The finishing touches – Buy or make or refinish
a beautiful tray for breakfast in bed – see
https://www.potterybarn.ca/willow-tray-grey and
make a beautiful breakfast or https://www.potterybarn.ca/seagrass-woven-trays
and serve on pretty floral dishes for a
spring breakfast!
27. What doesn't epitomize spring more than Easter
bunnies in your décor. I love white sculpture and pottery
of any kind because it is so versatile in a home and
matches anything and being white they are just classic
see these adorable stone Easter bunny sculptures see
https://www.potterybarn.com/products/stone-easter-bunny-sculptures/
and also bunny shaped vases that can be filled with fresh flowers
https://www.potterybarn.com/products/garden-bunny-object/pip-print.html
31.Beautiful Robins blue eggs signify spring and
these are excellent to decorate décor see
https://www.potterybarn.com/products/ceramic-egg-accent/pip-print.html
Now from all you have learned in this article…..
check out this video of 2021 current design
trends in bedrooms but as you will see
many of them feel dead in that they need
live plants! So as you look through each
bedroom imagine plants, branches and flowers
and how much more beautiful they would be
with a touch of spring style!
Interior design bedroom 2021/ Home Decorating Ideas – YouTube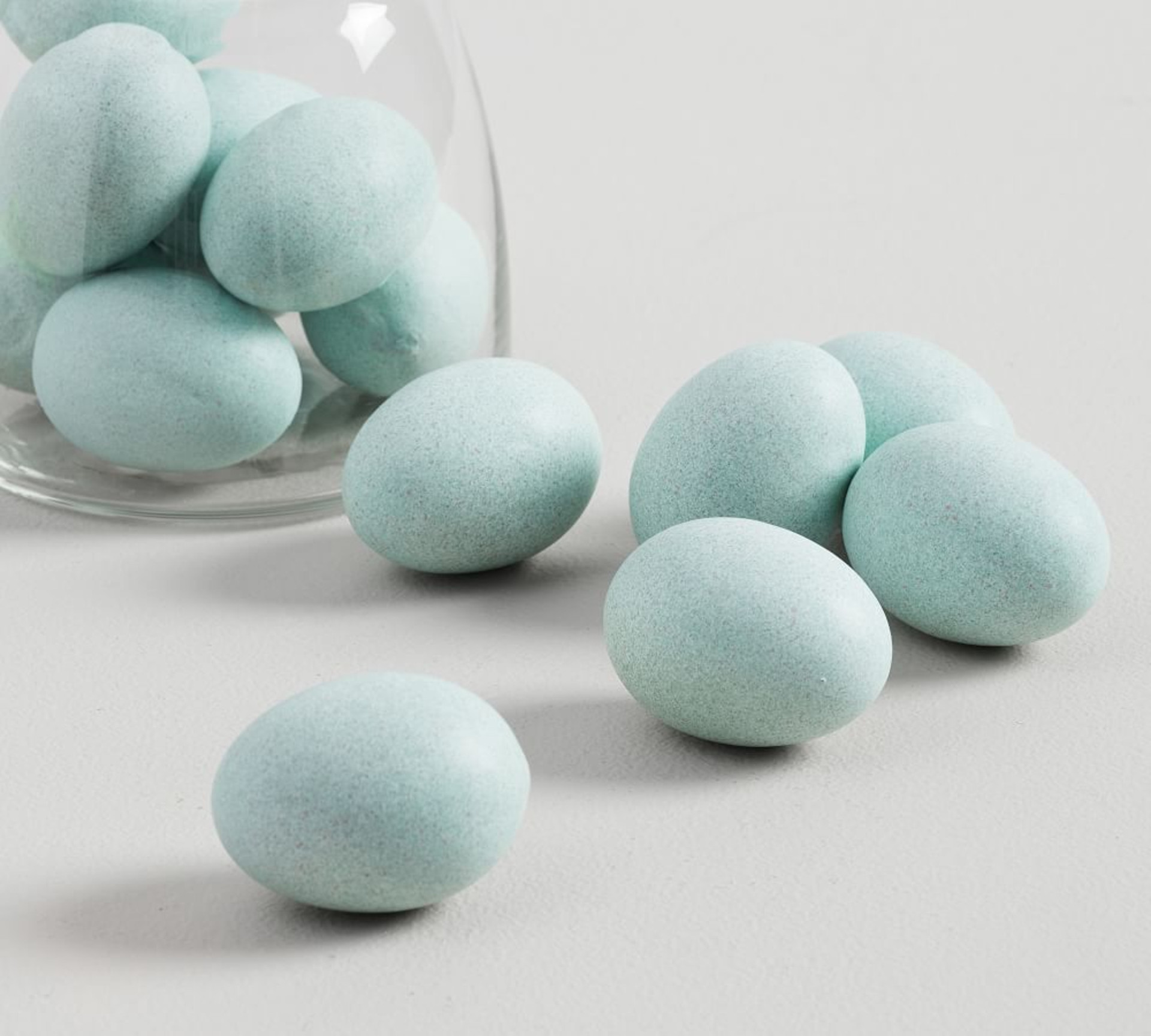 Kimberley Cook:
Artist Kimberley Cook AFCA CSPWC has been
painting in Oils and Watercolours for over
25 years and she loves to make her surroundings
beautiful whether in her home, studio or garden
with her creative ideas and wants to help others
create their own gorgeous space! To Kimberley
"creating is like breathing" a very necessary
part of her life.
The painting in this article is her latest
Oil Painting in her "White Peony Series"
titled "White Peonies- Pastel Pair". If you
would like to purchase this Original Oil
or would like to see more of her Artwork
see www.kimberleycook.com
Instagram: kimberleycookfineart
Facebook: Kimberley Cook Fine Art